Hydrostor Activates World's First Utility-Scale Underwater Compressed Air Energy Storage System
Published: 2015-11-19 | Original Article
Attribution Hydrostor
An aerial view shows the Toronto Islands and Billy Bishop Toronto City Airport in the foreground of Toronto. A new compressed-air energy storage system is being launched off Toronto's lakefront on Wednesday.
Hydrostor has a proprietary Underwater Compressed Air Energy Storage (UCAES) solution that addresses intermittent renewable generation (solar, wind), reserve capacity, peak shaving. The company offers a complete solution including financing for island nations, renewable project developers, utilities, and coastal cities.
True bulk energy storage that addresses the issues of renewable intermittency, grid load balancing, reserve capacity, and peak shaving. Utilizing state of the art mechanical and electrical components from some of the world's leading manufacturers, our clients receive the comfort and peace of mind that the Hydrostor system will perform admirably for the life of the equipment and is backed by a global service network.

Our projects use drilling systems that minimize environmental disturbance and nearly eliminate the need for off-shore construction, as well as a thermal management system allowing superior capture of heat, driving our efficiency even higher. Hydrostatic pressure naturally created by water depth makes the Hydrostor Solution of the cleanest, most economical energy storage solutions available today.

How it works
Hydrostor's energy storage solution
1. Convert Electricity to Air
Electricity runs an air compressor which converts the electrical energy into compressed air.
2. Thermal Management
Heat from compression is captured during this step and stored to be used during generation, thus increasing the system efficiency. Additional heat can be added to further increase roundtrip efficiency.
3. Pressurize Air
The compressed air stream is pressurized to the same pressure found at depth where the accumulators are located.
4. Store Air in Accumulators
The air displaces the water in the accumulators and is held until electricity is needed by the consumer.
5. Reverse the Air Flow
To satisfy the need for electricity the system reverses the air flow allowing the weight of the water to force the air back to surface under pressure.
6. Convert Air to Electricity
The stored heat is added back into the air stream. The heated air travels to an expander which drives a generator efficiently converting the energy in the air back into electricity for the consumer.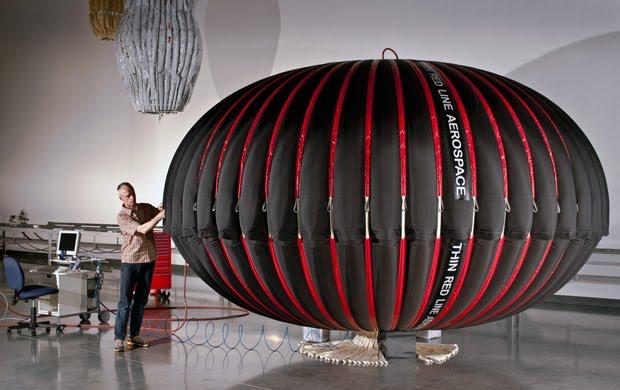 Hydrostor Press Release - Nov 18 2015 FINAL.pdf
Attribution Hydrostor